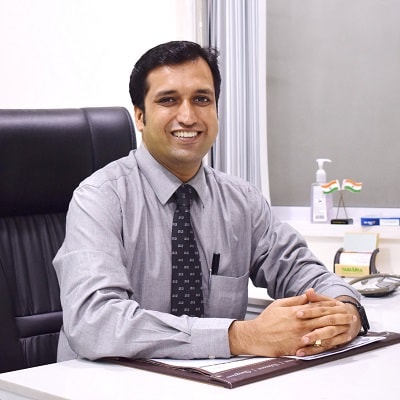 Dr. Vikas Deshmukh
M.B.B.S., D.P.M., M.D. Psychiatry
Leading Psychiatrist & Sexologist in Vashi, Navi Mumbai
Request Appointment
Dr. Vikas Deshmukh is a Consultant psychiatrist and Sexologist practicing in Vashi & Navi Mumbai since the past 10 years. He is also the chief consultant at Manovikas Clinic,Vashi and as such it is his passion and energy that drives the workings of this clinic.
Over the past 10 years Dr. Vikas has helped many children, teens, adults and elders overcome their mental health issue be related to depression, stress, anxiety or any other psychological disorder.
"Dr.Vikas is very professional in his approach. He values every patient's time and he is very passionate about his profession. When I visited him for the first time, I had many misconceptions about psychiatry. He took the time to clarify my doubts and guided me towards the right medication and treatment plan. The commitment and patience of Dr.Vikas in dealing with every new case is simply impressive. I highly recommend him to anyone who may be going through minor or severe mental disturbance or mind related issues. My sincere thanks to Dr. Vikas for helping me overcome my anxiety issue to a great extent. Best wishes"
– Nishad Bahulekar review of Dr. Vikas on Google
Dr Vikas and his team are amazing. It was a great experience of his treatment. His best part is he resolve the issue so smoothly and create a big confidence within. Highly recommended..
– Payal setiya reviews on google